Photo de Frank Whittom et Martha-Jane Prevost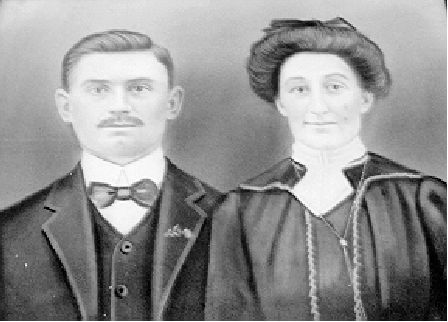 ---
Frank, fils d'Adolphus, est né le 2 mai 1883. Il s'est marié le 15 janvier 1907 avec Martha-Jane Prevost, fille de George Prevost et de Mary-Ann Lebrasseur.
Martha-Jane est née le 8 octobre 1884 et est décédée le 7 février 1959.

---
Frank, son of Adolphus, was born on May 2nd, 1883. He married Martha-Jane Prevost (daughter of George Prevost and Mary-Ann Lebrasseur), on January 15th, 1907.
Martha-Jane was born on October 8th, 1884 and died on February 7th, 1959.

---
| | | | | | | |
| --- | --- | --- | --- | --- | --- | --- |
| WHITTOM | WHITTOM | | WHITTOM | | WHITTOM | WHITTOM |