Photo de Sam Whittom et Adeline LeBrasseur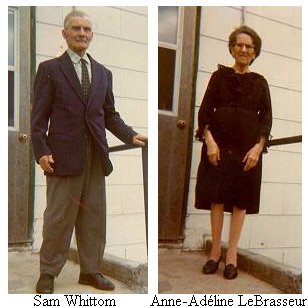 ---
Simon (Sam) , fils d'Adolphus, est né le 18 septembre 1888. Il s'est marié le 8 avril 1913 avec Adeline LeBrasseur, fille de Alfred LeBrasseur et Adélaïde Fulham.
Adeline LeBrasseur est née le 29 juin 1893.

---
Simon (aka Sam), son of Adolphus, was born on september 18th, 1888. He married Adeline LeBrasseur, daughter of Alfred LeBrasseur and Adélaïde Fulham, on April 8th, 1913.
Adeline LeBrasseur was born on June 29th, 1893

---
| | | | | | | |
| --- | --- | --- | --- | --- | --- | --- |
| WHITTOM | WHITTOM | | WHITTOM | | WHITTOM | WHITTOM |